Don't miss a Comic Con? The STCP Comic-Con Shuttle takes you!
2016.12.05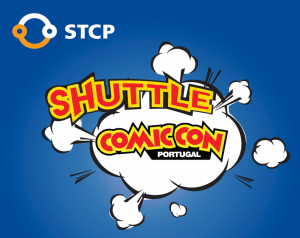 The Portugal Comic Con is the largest Pop Culture Convention to be held in our country, home to various areas, such as Movies, Tv Series, video games, comics, Cosplay, Anime and Manga. This year's Edition takes place on days 8, 9, 10 and 11 December, at Exponor.
Comic Con has this year a special service of the STCP: beyond the rows 507 and 601, the offer to Exponor is enhanced with the Shuttle STCP Comic Con, that works every day of the event, between the underground House music interface and the Comic Con has high frequency and greater mobility-morning, 15/15 min and to return to the end of the day, 12:00 pm 12 minutes-in large-capacity buses. At halftime, there are departures every 30 minutes.
The combination Shuttle + Metro intends to liaise more frequent, quick and convenient to Comic Con, from points as Campanhã station, the Lower the port or Gaia, for example. The STCP also ensures connection to the Shuttle through several bus lines with passage in the interface: 202, 203, 204, 208, 209, 501, 503, 504, 507, 601, 704, 902 and 903.
Other direct connections to the Comic Con is provided by 507 (Cordoaria-Leça) and 601 (Cordoaria-airport). From 8 to 11 December these lines display in the target passage for Comic Con.
All information is available here or via the blue line 808 200 166/226 158 158.