STCP FREE WIFI IS EXTENDED TO THE ENTIRE NETWORK
2016.09.23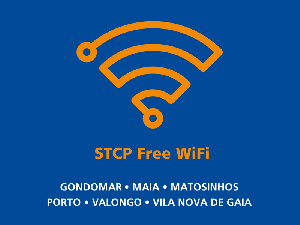 Since September 2014 STCP FREE WIFI was only available in the city of Porto, in an experimental stage. During these 2 years, about half a million customers of STCP surfed to 5,000,000 hours on the internet, free of charge. After September 23, STCP ensures the extension of this service to over 5 municipalities at once: Matosinhos, Maia, Valongo, Gondomar and Vila Nova de Gaia, covering the entire network.
This extension will duplicate the number of customers connecting during their travels by bus during the entire  route, without interruptions, at any time.
STCP Free WiFi now available in more than 450 km of network and in 411 buses. This is the largest urban vehicular network in operation, connecting all th STCP buses (with the exception of 8 minibuses and 6 historical tramcars), taxis and service vehicles of Porto Municipality. This moving internet mesh connects to the fixed network access points of Porto Digital and to the cellular network, where other access is not available, being economically efficient.  The innovative technology used and tested in  STCP, was developed by a Portuguese company headquartered in San Francisco, and is already in application in the cities of New York and Singapore.
STCP FREE WIFI: a TYPICAL WEEK of use (11 to September 17, 2016):
Internet sessions: 40 500
Unique users: 17000
Average session length: 12 min