STCP PROVIDES A SPECIAL SERVICE BETWEEN TRINDADE AND SANTO OVÍDIO ON AUGUST 19TH AND 20TH
2023.08.16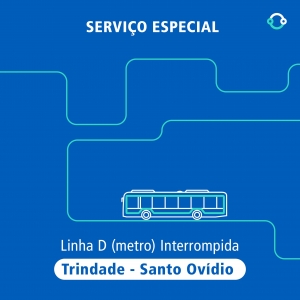 On Saturday and Sunday, August 19th (all day) and August 20th (until 1 p.m.), Metro do Porto's Yellow Line (D) will be interrupted due to construction work on the future extension of this line, between Trindade and Santo Ovídio stations.
To serve passengers wishing to travel on this route and during the period when there is no metro service, STCP will operate a special line, additional to its network in this area, with high frequency and ensuring stops close to the Metro stations covered by the interruption.
STCP will thus be present to guarantee the usual mobility of public transport users in this area, operating with the following frequencies:
Saturday, August 19th:
- from 6 a.m. to 7 a.m: 10 minutes

- from 7 a.m. to 9 p.m.: 5 minutes

- from 9 p.m. to 11 p.m.: 6 minutes

- from 11 p.m. to 1 a.m.: 10 minutes
Sunday, August 20th:
- from 6 a.m. to 10 a.m.: 10 minutes

- from 10 a.m. to 1 p.m.: 7 minutes
It's important to note that:
the ticket must be validated inside the buses and not at the metro stations;
bicycles cannot be carried on this special service.
According to Metro do Porto, traffic on the Yellow Line will return to normal from 1 p.m. onwards.