Tramcar from 1929 returns to service on line 1 after restoration
2017.05.05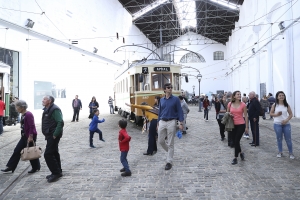 The STCP presented on may 6 the restoration of tram number 287, "Belgian" model, dated from1929. This electric car, which was fully recovered, is suitable for the transport of passengers and will start commercial service during the parade of 2017 electric cars. The moment will be marked a symbolic moment of presentation of the new vehicle, with the presence of the musician, and now godfather to "Belgian Car", Miguel Araújo. From then on, tram 287 becomes part of the STCP offer on line 1.
This year, celebrate the 25 years of the newly renovated Museum of the electric car. Since in 1992, are preserved and exposed, in this space, several electric cars, trailers and goods vehicles with undeniable asset value and cultural identity. In 2015 has reopened with a new core exhibition extended to the engine room of energy production that was moving the electric, produced in Thermoelectric Central of Massarelos, listed building which houses the Museum.
The "Belgian" tram
The 287 electric car belonged to a series of 10 electric cars that were purchased by the company Iron rails from the port to the Belgian company "Societé Anonyme des Atelliers des Etablissements Familleureux Construction" in 1928, which became known as the "Belgian" cars.
The "Belgian" was looked at as the most elegant of all electric car. Has six side windows and five in each of the platforms. The 32 seats inside are straw-lined (NOTE: as will be used in regular commercial service, this vehicle has no 287 now seats in straw), being distinguished by the Interior lamps and six fans in the roof that allowed the air renewal.
The movement of electric cars out of the city limits of the port required the use of vehicles with capacity for more travelers. Thus, the Iron rails of the port Company acquired some of these vehicles in the year 1929, these vehicles which were more bulky allowing movement of 40 seated passengers. It was still used, preferably on routes with little steep incline, doing most of the route.
This series of cars was acquired to replace some of the 30 electric cars that were completely destroyed in a big fire in the building of the "Remise" da Boavista in the early hours of the day 27 February 1928. So, the following year the "Belgians" entered the service, leaving the 18 May 1996.
Technical Characteristics:
Number of engines: 2
Source, make and model of engines: England, British Thomson Houston-BTH ventilated 114DR
Type and engine power: DC series motor of 89 HP
Supply voltage of the motors: 550v (600v-Max.) continuous current
Make and model of the combiners (controllers): Siemens K 7731-1
Chassis (truck): maximum traction bogies mounted in inverted position
Manufacturer of chassis (truck): J.G. Brill, C°
Distance between pivots of bogies: 5.50 m
Wheelbase of bogies: 1.50 m
Gauge (width): 1.435 m
Capacity (seats): 32
Overall length (without fenders): 11.65 m
Maximum width: 2.44 m
Height (without trolley): 3.61 m
Approx. weight: 16.000 Kg