ZR line offers more trips to the Countryside Fair
2017.06.07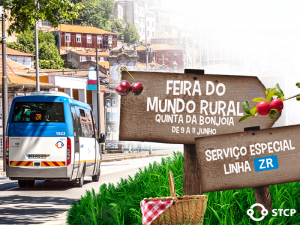 The countryside is about to return to the city of Porto, and with it the famous cherries of Resende, for the 14th edition of the fair of the Rural world, organised by the Câmara Municipal do Porto, in partnership with the municipality of Resende, and which will take place on Thursday of Bonjóia,  on June 9, 10 and 11 . Every year there's a special guest, and this year is the municipality of Montalegre to show their traditions and will carry onthe exhibition "Montalegre-a magical land"
More information by phone at 22 589 92 60. The animation program can be found
here
.
Location of Event: Quinta de Bonjóia, Bonjóia Street, 185, 4300-082 port.
Time of Event:
9 June-Friday-the 6:00 pm to 11:30 pm;
June 10-Saturday-from 11:00 to 11:30 pm;
11 June-Sunday-the 11:00 at 7:00 pm.
How to arrive in public transport?
Additional travel to the normal circulation of ZR line will be held a route alternative, according to
MAP
, with faster connection to the location of the event (ZR). The alternative route travel (ZR), Bonjóia, the bus will end within the Bonjóia farm.
ZR lines, 205 and 400 have stops close to Quinta da Bonjóia. See the
special time
of the ZR line for this event.
205 line connects at about 6 minutes to Quinta da Bonjóia from Campanhã station (train and metro stations).
For tourists and visitors, we recommend the use of the ZR line in the area of Ribeira, which is close to São Bento Station, and connects to the line 500 or 900, 901 and 906, from Gaia or of the Trinity (metro).