In July of 2007 after the reconfiguration of the public transport network as from the 1st January, STCP implemented an Easy Access Network currently covering 62  of 70 lines which are run by STCP buses, 37 of which with ramp vehicles ( 11 Late Night Lines are covered). Out of these 70 lines which are operated by STCP buses, 37 – more than 50% - make access easier for wheelchair users,  by using 268 buses fitted with automatic ramp and allocated wheelchair space with seat belt. This bus network is complementary to both light rail and overground train networks in order to further improve mobility provided.
Easy Access Network is duly identified and was disclosed to boost mobility of people who usually did not rely on public transport.
In 2011, this network covered 100% of the lines operated by STCP, only historical tram lines being now excluded as well as lines operated on a subcontract basis. Particularly noteworthy is that, at the end of the same year STCP's entire fleet was made up of 468 buses and 5 historical trams, totalling 473 vehicles.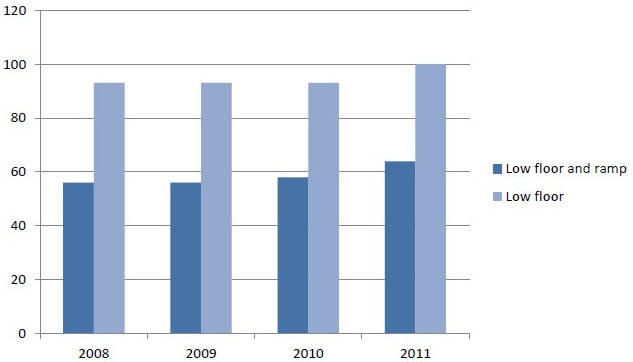 All buses provide audio-visual display screens giving final destination information, line number as well as next stop. Illuminated signalling system and electronic display screens have been installed on board. With this information system, blind, partially sighted and deaf people are more easily provided orientation enabling them to make a smoother journey like anyone else.
Audio and visual information in detail implemented on board by STCP across its network, is listed below:
Audio announcements:
Line and destination
Next stop
Validation
Door closing
Stop sign
Ramp (full) deployment


Visual
announcements
:
Line and destination
Next stop
Messages
Information provided at bus stops
The following municipalities are covered by the accessible public transport network: Porto, Matosinhos, Maia, Valongo, Gondomar and Vila Nova de Gaia.
The undermentioned representatives of mobility-impaired citizens together with STCP were involved in the implementation of this network:
ACAPO: made information in braille version available and provided training to drivers.
Metropolitan Ombudsman for Disabled Citizens: made information in braille version available and provided training for drivers.
CPUC
Municipalities: afforded cooperation by removing barriers and equipment from bus stops.